Coats & Shoes for Victims of Domestic Violence
More than 60% of women who are experiencing homelessness are victims of Domestic Violence according to the DTLA Women's Shelter. October is Domestic Violence Awareness Month and 10 years ago, I survived a brutal domestic violence incident that called me to educate on violence prevention and awareness to youth in Los Angeles. I share my story so that others will feel empowered to share theirs and teach young adults entering into intimate romantic relationships, often for the first time, to develop increased awareness around identifying unhealthy and toxic warning signs in partners.
As a younger woman, my awareness and education in identifying red flags – warning signs – was limited. I made decisions in those relationships more on impulse and emotion rather than rationality and self- awareness. I wish I had understood the term domestic violence more and had learned about tools to build healthy relationships and navigate my womanhood. It is important for young women to know how to confidently communicate their needs and feel empowered to share their voice. Having those tools to do so is powerful, and I look forward to sharing important resources throughout October.
Simply Youth Institute celebrates Hispanic Heritage Month and Breast Cancer Awareness Month. Our hearts and prayers go out to the families who were impacted by the devastation from Hurricane Ian and for the many women who are fighting for their rights in Iran. This month we donate gently worn shoes, coats, and hygiene items to the East Los Angeles Women's Center who supports victims who were sexually trafficked, and B.A.R.E. who works consistently in supporting the Los Angeles community experiencing homelessness.
P.S. Don't forget to get out and VOTE on November 8th, 2022! Speak up and be heard!
Empower Peace, 
Wynter Eddins 
Hispanic Heritage Month Celebrates Women in Action:
Yvonne Figueroa
Lead Community Organizer, LA Voice
We had the honor of interviewing a remarkable and community transforming leader who speaks proud of her culture and creating a UNITED community! Check out the interview below with the one and only Yvonne Figueroa!
What does Hispanic Heritage Month mean to you? 
A celebration of food, music, culture, and Latinx power. An opportunity to uplift stories of hope, pain, joy, and sacrifice for and by the Latinx communityA time to remember our indigenous roots, cultural, and spiritual practices
How has being a Latina woman been an advantage to you in the community?
 I come from a lineage of powerful mujeres (women). My grandma was a single mother who did what she had to do to provide for her four children in a poor, remote village in El Salvador. My mom was also a fierce woman with a strong faith and a strong work ethic. Seeing their strength, resilience, courage, power, and faith growing up inspired me to become a community organizer. It is their belief in their own inherent dignity that led me to want to support all marginalized and oppressed people to build power to change their existing conditions. My first language is Spanish so I feel very grateful to be able to support my people in all kinds of ways like connecting them to resources, listening to their hopes, dreams, struggles, and encouraging them to believe in their own power. 
Is Simply Youth Institute a place where Latina women can excel? 
Yes! I had the pleasure of meeting Veronica Peña, a Simply Youth leader, who co-lead a powerful closing housing chant at our last event in front of 400 people. She was a bit nervous at first but pushed through her fears to do it. This is what excelling looks like, and I was honored to be a witness to it. 
If you were not working, what would you spend your time doing? 
I love my work as a community organizer, it is a personal and spiritual calling. I would do it in my free time even if I wasn't getting paid. I would also be engaged in community healing work, learning and practicing different modalities for mental, emotional, and spiritual liberation. But also, dancing. I would/should be doing more of that… and traveling, exploring historically significant spaces and places. 
What is your empowered vision that you have for the community?
I envision a community where all can thrive and have their physical, spiritual, and emotional needs met. One that is abundant and life giving and where people are always prioritized over systems of profit and greed—a Beloved Community. 
October is Financial Planning Month!
Lack of financial education and security is the number one reason that women stay in and return to abusive relationships. 
Take inventory of account balances owned and owed.
Review budget using these tools from The Budgeting Mom.
Eliminate debt
Automate savings
Start/ review retirement accounts
Check your Credit
Protect your financial heath!
Do not use apps like Cash App or Venmo as a bank account. These are easier to hack as well as are not FDIC insured.
Regularly monitor account statements.
Regularly review your credit for suspicious activity.
Jot down these dates on your calendar:
If you or a child are entering or continuing college in the 2023-2024 school year, FASFA has opened

October 1st

, 2022.

https://studentaid.gov/

Medicare open enrollment opens from

Oct 15 thru Dec 7th, 2022.
October 10, 2022

is a bank holiday.

October 17th, 2022 is the tax return deadline for those that received an extension to file their 2021 taxes.
AND THE GOOD NEWS!
U.S. Asking rents fell for the first time since December 2020 0.2% from August-September 2022.
FOCUSING AWARENESS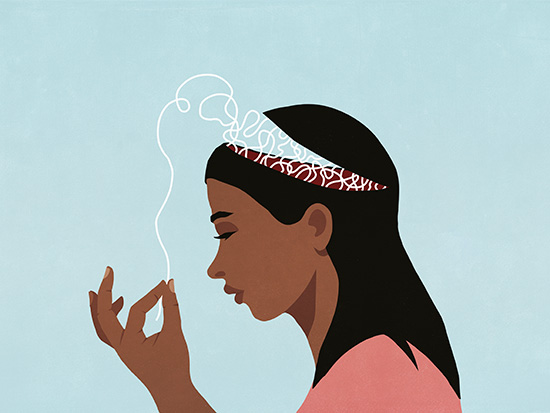 In October we shepherd awareness of depression and mental health. These are topics often not discussed in our personal or professional lives, yet mental health disorders affect millions of Americans. If you or someone you know is a victim of mental illness, take a look at the resources below by clicking on each link:
Voting for Youth Voices!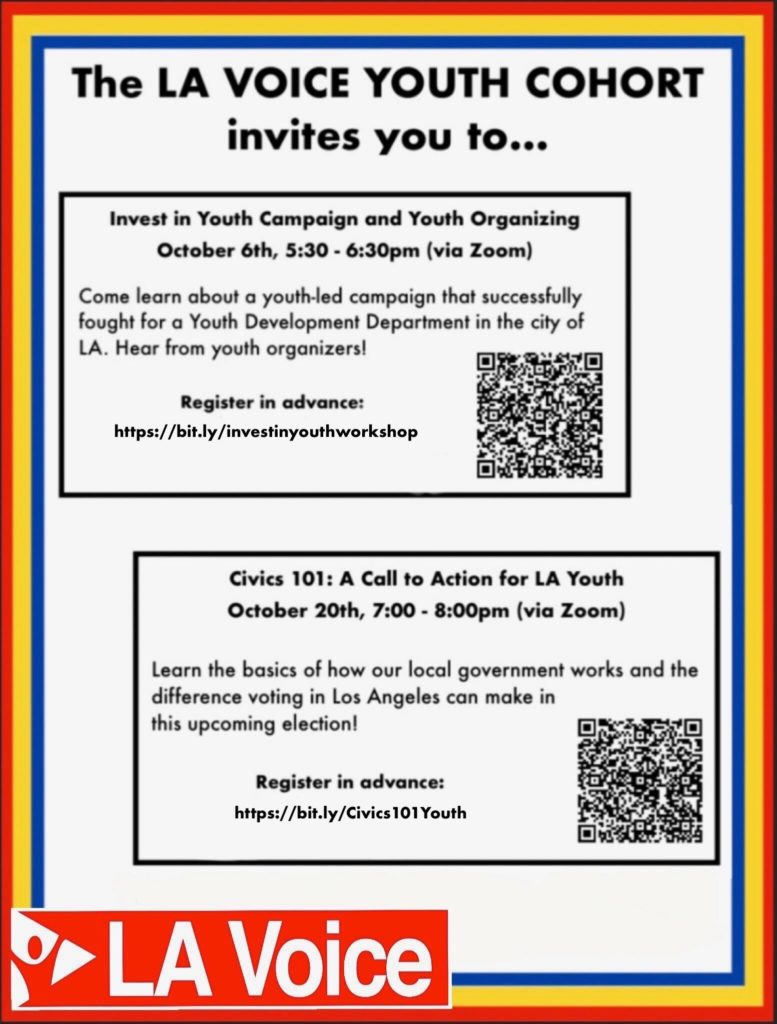 Join for a virtual learning opportunities LA Voice is offering to youth in October (flyer attached too):
Civics 101:  A Call to Action for LA Youth
Learn the basics of how our local government works and the difference voting in Los Angeles can make in this upcoming election
Thursday, October 20th, 7:00-8:00 – Virtual
Register in advance:  https://bit.ly/Civics101Youth
---